Merchant Hotel extension brings 80 jobs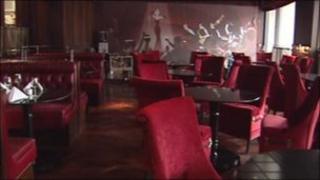 Eighty jobs are to be created through a £16m extension at the Merchant Hotel in Belfast's Cathedral Quarter.
The five star hotel will open its 'New Chapter' on Saturday.
It features a spa, jazz bar, roof top garden, new conference and event facilities, gym and 38 new bedrooms - each a minimum of 42 square metres.
There will also be a new entrance via Skipper Street. The 80 new jobs bring The Merchant's total workforce to 250.
Merchant owner Bill Wolsey said: "This project has been a labour of love, having been in development for over four years with careful consideration afforded to absolutely every new element.
"The finish is absolutely spectacular and I am confident that we have created a landmark that the people of Belfast can continue to take pride in."
The Merchant recently published its first set of accounts - previously its performance was contained within the overall Beannchor group accounts.
They showed that in the last financial year the Merchant made an operating profit of £264,477 on turnover of £6,125,519.
Pre tax profit was higher at £2,070,248 due to an exceptional item relating to an investment gain.