Revamp planned for Ross Street flats in Belfast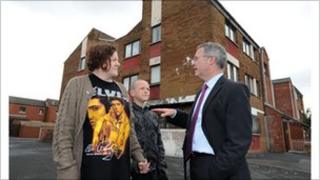 A block of flats in west Belfast where a man was murdered are to be demolished.
Bap McGreevy died several days after he was attacked in his Ross Street home in March 2008.
Social Development Minister Alex Attwood announced plans for the flats in the Lower Falls area to be replaced with 11 three-bedroom houses.
His proposals will be put out for consultation to the local community.
The area has become a hotspot for anti-social behaviour and this has been intolerable for local people.
Alex Attwood said: "I recognise that these flats have had a difficult, and at times, very dark past.
"I have visited the area. I have spoken with local residents individually," he said.
"It has become more and more evident to me that we need not just new housing here, but also a much improved environment, to make the area not vulnerable to the activity of anti social elements, and more appealing for those who will live here."
The revised plans, drawn up by the Housing Executive on the minister's instructions, involve the demolition of 12 flats, two houses and six cottages in the area.
The 11 new family homes will bring more people to live on this site than the current housing provides for.
Robert McClenaghan lives in the area and has campaigned for years to have the flats pulled down.
"It has been a nightmare for those living closest to it.
"You have very poor lighting and a very bad road system which allowed it to be treated almost like a race track for stolen cars," he said.
"The actual flats themselves, if you pulled the chain on the toilet in one of the flats on the third floor, the raw sewage would come up in the flat on the ground floor."
'Welcome decision'
The minister said he wants to hear the views of local residents and hoped to have the final plans drawn up by October 2010.
Sinn Fein West Belfast MP Gerry Adams welcomed "the long overdue decision" by the minister to demolish the flats and said it was a "victory for the community, for the residents of Ross Road flats and for common sense".
"This is a very welcome decision. The Lower Falls residents have waged a vigorous campaign for demolition and this is a victory for their efforts," he added.
"There should now be no further delay in moving ahead with demolition."
The new houses will be designed to high levels of sustainability and energy efficiency and will reflect the very latest in safety and security standards.
The Minister, together with the Housing Executive, will hold a public meeting in the area next week to have detailed discussions with local residents on the proposals.
The number of applicants in need of housing in the Lower Falls has fallen from 305 in March 2009 to 273 in March 2010.