Five in court over Belfast 'punishment shooting'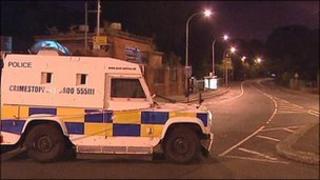 Four men and a youth have appeared in court in connection with a so-called punishment shooting in west Belfast.
One a shot was fired during the incident but no-one was injured.
The five suspects were arrested and two guns recovered shortly after the incident on St James's Road on Thursday.
Belfast Magistrates Court was told helicopter footage forms part of the case against the five.
Police could not confirm whether surveillance or undercover officers were used during the operation.
The court heard the youngest suspect, who cannot be identified, was a vulnerable person and "an ideal courier" of the weapons due to his age.
He is accused of possessing a 9mm handgun, revolver and ammunition in suspicious circumstances, and having a firearm with intent to cause fear of violence.
Threat
Charges have also been brought against Belfast men Robert O'Neill, 33, of Andersonstown Park East; Anthony Rooney, 47, from Broom Close, Twinbrook; Stephen McAllister, 40, of Moyard Crescent; and 34-year-old Sean O'Reilly.
A ban was imposed on disclosing Mr O'Reilly's address after the court was told a threat has been issued against him.
All four men are accused of conspiracy to wound with intent, attempting to wound with intent to cause grievous bodily harm, having a firearm with criminal intent, and possessing articles for use in terrorism.
The court was told these allegedly include an extendable baton, gloves, woollen hat and a scarf.
Anthony Rooney and Robert O'Neill are further charged with possession of a Taser stun-gun.
Undercover
A detective constable told the court he could connect all five accused with the alleged offences.
Cross-examined by defence solicitor John Finucane, for Sean O'Reilly and Anthony Rooney, the officer said he was "not at liberty to say" whether an undercover surveillance operation had been used.
He was also unable to confirm whether a 999 call was made to police in connection with the incident.
Mr Finucane did not seek bail for his clients, but said an application would be made at a later stage.
The lawyer told the court: "Helicopter footage evidence seems to be very crucial in this case. That has been put to my clients at interview and I would expect that footage to be ready and available."
All four men will appear in court again next month.
The 16-year-old's application for bail was opposed due to the fear of further offending and for the youth's own protection.
Police also believe no suitable bail address is available within Northern Ireland, the court heard.
Remanding the youth in custody until Friday, District Judge Fiona Bagnall adjourned his application to allow more time to resolve issues around any possible address.