New bypass at Newry is opened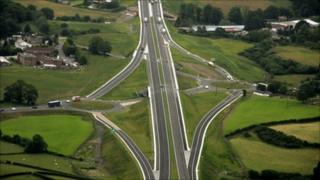 The Newry bypass, a new road link between Belfast and Dublin, has been opened.
NI Deputy First Minister Martin McGuinness and Irish premier Brian Cowen led ministers at the ceremony at Newry, County Down.
The A1 Beech Hill to Cloghogue dual carriageway has been completed five months ahead of schedule.
The 12km scheme extends around the northern and western outskirts of the city of Newry.
It replaces the final single carriageway section of the A1 Belfast to Dublin road with a dual carriageway.
The completion of the link cuts down the travel time between the two cities.
Mr Cowen said the the development would bring economic and social benefits.
Mr McGuinness said it was estimated the journey between Belfast and Dublin could be cut to 90 minutes.
Projects
He praised the continued financial support of the Irish government for other road projects.
These included improvements to the route to the port of Larne, plus a major road linking Londonderry and Dublin.
Sinn Fein's Regional Development Minister Conor Murphy, accompanied by DUP junior minister Robin Newton, said the final 7.5-mile phase of the route was completed five months ahead of schedule and cost £150m.
Earlier on Thursday, Ulster Unionist MLA for Newry and Armagh Danny Kennedy said the opening was a "red letter day" for the area.
"After many years of campaigning for the development of this section of road, I am delighted to see it officially opened," he said.
Cathal Austin, vice-chairman of Newry Chamber of Commerce and manager of the Quays Shopping Centre, said the opening of the bypass was good news for traders in the city.
He said heavy vehicles could now bypass Newry, easing traffic on the roads and providing more car parking space.
"It puts about three million people within 40 minutes drive of Newry," Mr Austin said.
"Newry in the past has notoriously been a bottle-neck that has frustrated the life out of travellers between Belfast and Dublin and that bottle-neck is now at Sprucefield.
"I think people will get fed up at that bottle-neck and will take the detour into Newry."
Jack Murphy, who runs a jewellery shop in Newry, said people had been inconvenienced by the roadworks around the city for "a couple of years".
"Now that we have the new road opened, it's going to relieve all that and people are going to be delighted to get here," he said.
"They have talked about traffic coming here from the south. This also opens up avenues from the north to come down as well. If people get here easier, we are all happy."