Omagh development a 'step closer'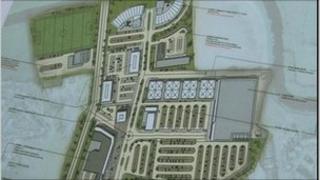 A £350m development in Omagh has moved a step closer, with the granting of outline planning permission.
The scheme includes a hotel, retail space, offices and health and leisure facilities and could create hundreds of jobs.
Work on the Derry Road proposal, "Opportunity Omagh", has been going on for a number of years.
It is thought construction firms could be invited to tender for the project later this year.
The company behind the scheme is GML Estates, a Guernsey-based developer, owned by businessman John Farmer.
GML developed the Outlet Centre in Banbridge and is planning a number of other retail projects in Northern Ireland.
The Omagh site in the west of the town, stretches from the Derry Road roundabout to the Strathroy housing estate, crossing the Strule river.
Development in this end of the town has historically been hampered amid security concerns, because of the Lisanelly barracks. But the site is now vacant.
Confidence
Along with the retail, residential and business space, the proposal includes a new link road.
Local representatives in Omagh say granting approval for the proposal is a vote of confidence in the town and adds strength to ambitions to achieve city status in 2025.
Omagh District Council chairman Declan McAleer said: "This is a key linkage route within Omagh to open up Omagh, not only for this investment but for many other structural investments in the town.
"Right beside the proposed Opportunity Omagh development, we also have the education campus development, so those two projects will be right beside each other."
However, Glyn Roberts of Northern Ireland Independent Retail Trade Association said it is effectively an out-of-town development which could damage the town centre.
"While we welcome many aspects of this application and the investment it will bring, we have serious reservations about the impact the proposed 60,000 sq ft out-of-town hypermarket will have on Omagh town centre," he said.
"I cannot understand why the Planning Service rejected similar out of town applications in Banbridge, Larne and Ballyclare - but not Omagh?
"Opportunity Omagh needs to explain to local traders how this development will bring more people into Omagh town centre and also needs to reveal the identity of the multiple retailer."