Best's life on and off the pitch told in musical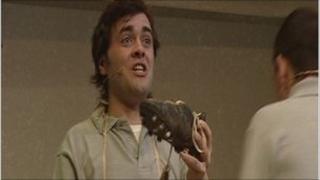 When those who were fortunate enough to see George Best play football describe the qualities that set him apart, they could easily be talking about Darcey Bussell or Rudolf Nureyev.
They talk of balance, poise, and style with a keen sense of drama.
In Belfast Boy by singer Don Fardon, Best is described as a "downtown dancer".
This renowned lightness of foot has inspired the title of Dancing Shoes - a new musical celebrating the life of the ex-Manchester United star which has opened in Belfast.
Of course, for a dramatist looking for a subject, Best is like an all-you-can-eat buffet placed in front of a very fat person.
Leaving anything out is difficult and done only with a heavy heart - squeezing in as much as possible is the goal.
Drama, sensation and tragedy seeped out of his life at the seams.
From the kitchen-sink ordinariness of the working-class Belfast upbringing towards stardom on the pitch at United, renown as a Sixties socialite and eventually the infamy of alcoholism with the despair and trouble it brought.
For Scottish musician JJ Gilmour, who co-wrote the music and lyrics, the life, rather than simply the football, was the fascination.
"He really was a pop star, a superstar 40 years ago when no-one was doing it.
'Dreams came true'
He said: "He was best friends with the Beatles, he had his own chain of clothes stores, he was dating Miss Worlds, Michael Parkinson was his best mate.
"This was a guy from the Cregagh estate in Belfast, for whom every one of his dreams came true."
Aidan O'Neill, is the actor charged with capturing the contradictory essence of Best.
How on the pitch, his superior demeanour avoided blatant arrogance as effortlessly as he swept past a brutal tackle without a scratch.
How off it, he despaired at failing to subject his life to the same close control so easily managed with a ball.
When Best died aged 59 in 2005 there was a public outpouring of warmth probably not seen since the death of Princess Diana.
Those behind the show are careful to reflect that affection in their portrayal.
Aidan O'Neill, who plays Best from the age of 10 right through until his death, says that the show should be seen as a "major tribute".
Co-writer Marie Jones says she thinks Best would approve of the show.
"We talked to his sister Barbara and she's been in and finds it very moving and touching.
"It's not mean-spirited at all. It's both a tribute and, at the same time, a great drama."