Asda meet murder victims' family amid employee row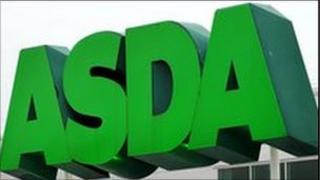 Two senior executives from Asda parent company Walmart have met the family of two brothers murdered in 1975 by one of its employees.
Billy Hunter, who works in the Shore Road store, was jailed for the murders in the nearby Mount Vernon estate.
He was recently sacked for commenting about a loyalist song at work but was reinstated after local protests.
The family of John and Thomas McErlean had demanded to meet top Asda executives following the controversy.
Hurt
The brothers were work colleagues of Mr Hunter when he lured them to a flat in the estate to play poker.
He then shot them both in the head.
When he was reinstated to his job earlier this month, the McErlean family spoke out about the hurt they felt at the local support Mr Hunter had received.
Asda Operations Director Mark Ibbottson and Rick Bendal, a senior Walmart executive in the United States, met the McErlean family at a west Belfast hotel on Wednesday.
Afterwards, both parties said the issue had been resolved satisfactorily.
"We are all very pleased with the outcome of the meeting and for their understanding and sympathetic attitude to us all," Gerard McErlane said.
"We hope this episode in our life is now over."
Dignity
He added: "Bigotry and sectarianism in our society is totally unwanted - we hope people with this frame of mind can change as it brings nothing but hurt and pain to everyone from both sides of our community.
"We want to make it clear that prisoners who have served their time have every right to work in their communities and beyond."
In a statement, Asda thanked the McErlane family for their "dignity throughout an extremely difficult and sensitive situation".
The statement continued: "Our goal is to create and foster a friendly environment, ensuring that no one ever feels any threat - which is why we provide a colleague confidential phoneline for anyone with concerns.
"We do not, and will not, tolerate any form of discrimination or provocation against any customer or colleague.
"As an outcome of this extremely unfortunate issue - we will be briefing all our employees on the high standards expected of them and on the importance of respecting other people's view and avoiding offence."