GAA sportswear company Gaelic Gear goes bust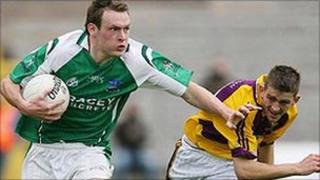 A company which attempted to break into the GAA leisurewear market with limited success has gone into liquidation following a court hearing.
Gaelic Gear made jerseys for Down and Fermanagh football teams during the middle part of the last decade.
However the company, based at Kennedy Way in west Belfast, faced stiff competition from traditional GAA supplier O'Neills.
The winding-up petition was made by Moneynick Construction Limited.
Last minute
It is understood the company was owed about £17,000 for rent of the Kennedy Way warehouse.
The public face of the Gaelic Gear was businessman Paul Campbell. He is listed in the most recent accounts filing at Companies House as the sole director of the business.
It is understood that at the hearing on Wednesday, he made a last-minute application to avert liquidation through a Companies Voluntary Arrangement (CVA).
A CVA is a deal where a company agrees to pay a proportion of its debt to creditors and continues to trade.
However, it is understood that Moneynick Construction was not happy with the terms of the CVA and proceeded with the winding-up application.
The Inland Revenue had also made a winding-up application although this was dismissed because the other had already been granted.
The liquidation comes months after Gaelic Gear lost access to its most potentially lucrative market.
Licence
A spokesperson for the GAA confirmed that it had withdrawn its licence to the company in March.
He said it meant that Gaelic Gear was unable to use any club or county crest on its leisurewear.
It was also not licensed to use the GAA crest.
It had already lost most of its business, with the Fermanagh County Board deciding not to renew its six-year contract in 2009, and opting for O'Neills instead.
The company, which also sold footballs, sliotars and hurleys, courted controversy during its relatively short time in the market.
In 2005, it clashed with the Kerry County Board after releasing a press statement appearing to link the county's football team with the company in "the most lucrative deal" in GAA history.
Kerry, which had a deal with O'Neills, rubbished the statement.
Accounts
The company was also known for its "partnership model" under which a fixed percentage of money earned from replica gear in a county was repaid to the county board.
In the latest accounts to the end of June 2008, the profit and loss account showed an overall loss of £3,273,771.
They also indicate that Mr Campbell has given personal guarantees to banks which have provided overdrafts.
He will therefore not be protected by the limited liability status of the company but will have to pay back the total of the guarantee from his own assets.
No-one from Gaelic Gear was available for comment.