NI-owned golf resorts in receivership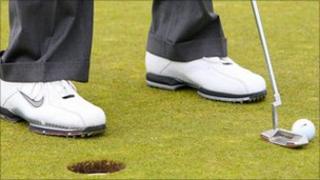 Two golf resorts in the Irish Republic which are owned by a troubled Northern Ireland developer have been placed into receivership.
New Forest Golf Club in Tyrrellspass, County Westmeath and Moyvalley Hotel and Golf Resort in County Kildare are now being controlled by a receiver at KPMG.
The clubs were developed by Alastair Jackson; another of his companies, the Templepatrick-based housebuilder Eassda was placed into administration last year.
The golf clubs are continuing to trade while the receiver examines their affairs.
Moyvalley is a 550 acre resort with two hotels and a Darren Clarke-designed course. New Forest is a slightly smaller development.
Both developments opened around three years ago and in recent times reduced prices in an effort to increase membership.
Irish Nationwide building society, which funded the developments, called in the receiver, according to documents filed with the Irish companies register.