Newry solicitors D and E Fisher buy rival firm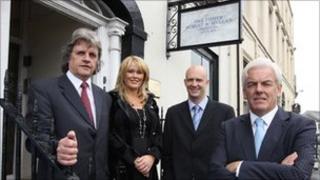 A firm of Newry solicitors has bought a rival practice owned by the wife of one of Ireland's richest men.
D and E Fisher acquired Robert A Mullan and Sons from Lady Ballyedmond, wife of Norbrook industrialist Edward Haughey.
Established in 1874, the firm was owned by Lady Ballyedmond for more than 30 years and she will act as a consultant for a time in the combined practice.
D and E Fisher is based at Trevor Hill and is owned by Law Society president Norville Connolly and Robert Ferguson.
It specialises in conveyancing, probate and litigation.
Mr Ferguson said the client profile of the two firms was similar and would "fit together very well".
Ulster Bank provided funding to support the deal, which will safeguard 12 jobs.