Martin McGuinness hints over move on Maze site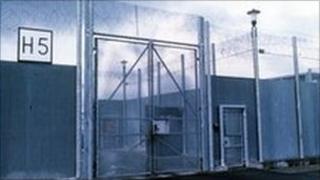 An announcement is due on redeveloping the site of Northern Ireland's former top security Maze prison, Martin McGuinness has said.
The deputy first minister revealed that he and First Minister Peter Robinson had reached agreement on the long-running issue.
Mr McGuinness said "good news" was imminent.
However, the minister declined to reveal details about the announcement.
In 2009, plans were announced for a development corporation.
The role of the corporation will be to look at options for the site.
Mr McGuinness was speaking at the official opening of the first high-speed road link between Belfast and Dublin.
He said: "I think Peter Robinson and I will have more good news to announce in regard to the development of the Maze/Long Kesh site.
"We have actually reached agreement and we will publicly announce how we intend to take that forward over the next very short while."
In May, it was revealed that almost £12.5m has been spent on the potential redevelopment of the former Maze prison site.
The figure was released by the Office of the First Minister and Deputy First Minister in reply to a question from Alliance MLA Trevor Lunn.
The prison, where 10 men died in the 1981 republican hunger strikes, closed in 2000.
Plans to build a multi-sports stadium on the site were rejected in 2009.
The proposed stadium had divided political and sporting opinion. The sports minister at the time said it did not enjoy sufficient political consensus.