Drawing support for the underprivileged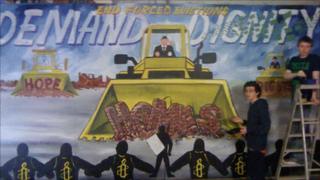 The latest murals to grace the walls of Belfast do not deal with local politics, but are aimed at tackling head-on the human rights abuses associated with global poverty, according to Amnesty International.
Two new murals appearing on either side of a Belfast's peaceline are the brainchild of Amnesty's Belfast youth group and have been completed with the assistance of well-known mural artists Danny Devenny, Marty Lyons and Mark Ervine.
One mural shows human rights campaigners blocking the path of bulldozers destroying homes in the developing world.
The other highlights the environmental damage done to local communities by some of the world's biggest businesses.
The murals are part of Amnesty's current global campaign campaign which focuses on poverty, human rights abuses in relation to corporate accountability, maternal health and slum settlements, and forced evictions.
The murals will be launched as part of Feile An Phobail (community festival) by Belfast Lord Mayor Pat Convery in the company of young people from the Amnesty youth group who took part in the project.
Councillor Convery said: "Traditionally murals in Belfast have primarily focused on local political issues.
"It is brilliant that this same medium is now being used by young people to challenge global poverty and human rights abuses.
"Hopefully the murals will help thousands of local people, as well as visitors to Belfast, to think more about these issues."
Amnesty International spokesperson Grainne Teggart said: "Our campaign goal is to end the human rights abuses that keep people poor.
"The murals designed by the young Amnesty activists are a brilliant way of conveying these complicated issues through simple and striking visuals.
"We want to thank the mural artists and Feile an Phobail for their help in making this project happen."
The murals will be unveiled on Friday.
One is situated on the International Wall on the Falls Road while the other is on the Shankill Road side of the Northumberland Street peace line.