Bishop backs 1971 killings probe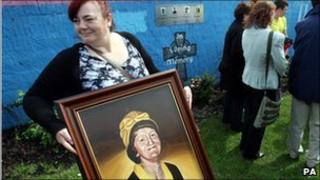 Government and society must have the guts to confront past wrongs in NI if the region is to look to a better future, a Catholic bishop has said.
Down and Connor Bishop Noel Treanor was speaking as documents on killings almost 39 years ago were released.
Bishop Treanor met and prayed with bereaved relatives at the scene of the 1971 shootings in Ballymurphy, west Belfast.
The previously undisclosed papers were about 11 people killed by the Army.
Bishop Treanor handed over documents to relatives of the victims on Friday and details of the documents were contained in a statement.
They were compiled by the Church at the time of the killings.
A Catholic priest and a mother-of-eight were among those killed by the Parachute Regiment in Ballymurphy in August 1971.
Bishop Treanor said: "It is important in an integrated way as we build a shared future in this society that we courageously and openly have the guts to address the entire ballast of the past, the weight of the past, so we may go forward in a healthy way to construct a shared future."
The documents handed over were complied by Canon Padraig Murphy who was parish priest in Ballymurphy at the time.
They included a number of eyewitness statements taken just weeks after the shootings.
Calls
The troops claimed they opened fire, after being shot at by republicans.
Bishop Treanor said he was supporting calls for an independent international inquiry into the deaths and a government apology.
Families of those killed made similar calls last month following the release of the Bloody Sunday report into the deaths of 13 people who were killed by Parachute Regiment soldiers in Londonderry six months later.
Bishop Treanor said the Ballymurphy killings were the unfinished business of the Saville Inquiry.
John Teggart, whose father Danny was one of those killed, welcomed the bishop's support.
"It's a big step for our campaign and it's welcome to have the Catholic Church as part of our campaign," he said.
The shootings in Ballymurphy took place during the Army's Operation Demetrius, during which people arrested on suspicion of involvement in paramilitary activity were interned.
According to the Catholic Church, the accounts include "a serving member of the British army, a member of the British Navy who returned to his ship shortly after the shootings, and an ex-Irish Guardsman".
In a statement, the Church said: "Those who compiled the report indicate that on the basis of the eyewitness accounts, 'we are convinced that the British army units involved, whether through fear or vindictiveness, unnecessarily fired a large number of rounds into the waste grounds across which innocent men, women and children were fleeing'."
It said the report found the people killed were not caught in crossfire, and there was "a sufficient weight of evidence to indict the soldiers on the roof of the Springmartin flats".