Apprentice boys memorial statue attacked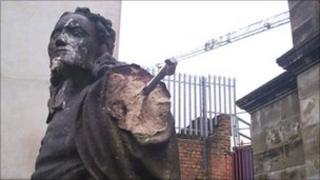 A statue of Governor Walker has been badly damaged in an overnight attack at the Apprentice Boys Memorial Hall in Londonderry.
The Reverend George Walker, was the governor of the city in 1689. A copper plaque dedicated to the 13 Apprentice Boys who closed the Gates in 1688 was also damaged.
Police are investigating a motive for the attack.
The original statue was destroyed in an IRA bomb attack in 1973.
The new statute was created in 1992.
SDLP MLA Pat Ramsey said: "The people of Derry will be appalled to learn of this act of wanton vandalism.
"Respect for different cultures and traditions are essential as we strive to build a shared society and promote Derry as a shared city," he said.
"This type of reckless and thoughtless behaviour sends out the wrong message especially at this time of year when the streets of our city are packed with tourists from all over the globe.
"Derry has been in the media spotlight for so many good reasons lately we will not let anyone drag us back to the past," Mr Ramsey added.