North Belfast residents 'kept prisoners' at Twelfth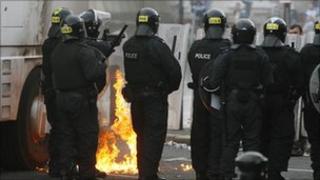 North Belfast residents have been "kept prisoners" for decades during Twelfth of July street violence, a High Court judge has said.
The judge hit out at rioters in Ardoyne as he refused bail to a man accused of travelling 30 miles to riot.
He said Paul Donegan, 26, of Dunclug Park, Ballymena, should remain in custody "until the madness stops".
Mr Donegan, charged with riotous assembly, is alleged to have thrown stones and kicked out at police lines.
The judge also disclosed how the disorder had impacted on his own family as he was growing up.
He said: "What went on at Ardoyne was an outrage.
'Curiosity'
"My mother and father were held prisoners every Twelfth of July for 40 years because of this carry-on. I couldn't get to school when I was a child because of this carry on."
The judge is a past-pupil of St Mary's CBS in west Belfast.
The High Court heard that Mr Donegan travelled from Ballymena on the day with his heavily-pregnant partner to collect a Moses basket and other items from her relatives in the area.
Jonathan Browne, defending, said Mr Donegan went to the scene of the rioting at the shop fronts because "curiosity got the better of him".
He argued that any involvement was amateurish as photographs allegedly showed the accused in a distinctive tracksuit and with a tattoo visible.
Mr Browne said: "We say he effectively became involved in this as opposed to planning to become involved."
However, Mr Justice McLaughlin said Mr Donegan could not be released in the current circumstances.
"Anybody involved in this on a voluntary basis needs to be kept out of harm's way until the madness stops," he said.
The judge said the rioters caused huge public alarm and distress, particularly to Ardoyne residents who were "being kept prisoners year after year for decades now".
"These people don't have any regard for anybody else who lives there. They only have regard for themselves."