Teens accused of Derry stab murder bid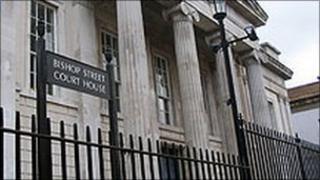 Two 17-year-olds have appeared at Londonderry Magistrates Court jointly charged with attempted murder.
The charges are over the stabbing of a 30-year-old man in his home in Derry's Galliagh area on Thursday evening.
A detective sergeant told the court the victim suffered a puncture wound to his right lung after being stabbed in the chest with a kitchen knife.
He underwent emergency surgery at Altnagelvin hospital before being transferred to the Royal in Belfast.
As well as being charged with attempted murder, the teenagers are also charged with robbing the victim of alcohol and cash.
They were remanded in custody until 5 August.