Funeral reflects flamboyant life of 'Hurricane' Higgins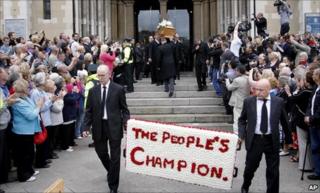 He was snooker's 'Hurricane' and the legions of fans that gathered in Belfast for Alex Higgins' funeral were determined he would not depart with a whimper.
If anyone was in doubt about their thoughts it was there in the large rectangular red and white floral tribute at the front of St Anne's Cathedral which read simply 'The People's Champion'.
Applause and shouts greeted the appearance of the traditional horse and carriage carrying Higgins' coffin as it drew up outside the church - an echo of the roar from the rafters during his snooker heyday.
This clapping continued both inside and outside as the coffin left the cathedral after the service.
At the funeral, Dean Houston McKelvey read out a tribute from Jimmy White which described an encounter with Higgins in a Southampton casino which ended with a "day in the cells" after the Belfast man had confessed to the 'Whirlwind's' accidental breaking of a bathroom sink.
Then Lauren Higgins, a baby when pictured in the arms of the Hurricane at his tearful second World Championship triumph in 1982, tried to keep her emotions in check as she delivered a poem in honour of her father.
Snooker royalty
The funeral was not a sanitised version of Higgins's lifestyle - the Bible reading was 'The Prodigal Son' - but a celebration of his prodigious talent.
Snooker royalty in the shape of former world champions, Stephen Hendry, Ken Doherty and Shaun Murphy were among those paying their respects.
Speaking afterwards, player and commentator John Virgo - renowned for his impressions of Higgins - explained why he had come to remember the Hurricane.
"He made the modern game there is no doubt about that," he said.
"He was a genius. "He made a good living for us all and I just wanted to say thank you."
There are few opportunities for the modern sports fan to meet their heroes, but a number of those on the street outside had their own recollections of meeting Higgins - who eventually returned to his home city to battle the throat cancer which claimed his life.
Dean Begley said he had played a frame of snooker with the Hurricane in Belfast city centre only last year.
"I played against Alex in a club in Rosemary Street last year, he was still potting century breaks, I couldn't believe how well he was still playing," he said.
"He gave me 50 points up and I beat him in a frame, but I gave him the money back such was my respect for him.
"My dad James Begley would have played snooker with Alex in the 60s and 70s, there was always a competitive edge between them."
David Montgomery from Newtownabbey recalled his surprise at meeting the Hurricane - a former apprentice jockey who loved horseracing - in a bar in Liverpool on Grand National Day.
"I was over in Liverpool on a trip and we had just been talking about Alex Higgins that morning," he said.
"I was talking to someone at the bar and he said: 'Do you not recognise that person over there?' - and it was Alex Higgins.
"I went over to speak to him and he couldn't have been nicer, he had the Racing Post in his back pocket
"He was one of my heroes as a child - I remember being allowed to stay up to watch him against Jimmy White in 1982 as a nine-year-old - so I was overawed."
'Charismatic'
Mr Montgomery said Higgins had made snooker "exciting" and this was a point picked up by fellow fan Sam McCrory.
"I loved watching Alex Higgins play," he said.
"People dwell too much on the dark side, we all have a dark side, let's remember what he did for the people in Belfast.
"He lit up the world of snooker and was the first and last of the charismatic players.
"Just like we hear where's the next George Best - we will wait a long time to hear about the next Alex Higgins."
The last word was left to Best's sister, Barbara McNarry, who stopped as she left the service to speak of her empathy with the Higgins' family.
"Higgy was a genius on the snooker table and that's how he should be remembered and not for the negative things," she added.