Northern Ireland gets new investment ambassador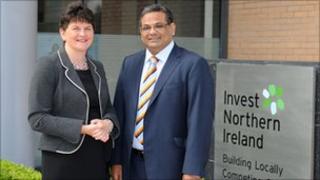 Northern Ireland has gained its first ambassador focusing primarily on foreign direct investment.
Hanif Lalani has been tasked with helping to make Northern Ireland more attractive to potential investors.
Announcing the appointment Enterprise Minister Arlene Foster said it was critical that Northern Ireland build on recent investment successes.
She said Mr Lalani had "a wealth of expertise in the IT, telecoms and business process outsourcing sectors."
"This will complement Invest Northern Ireland's in-market activities which are focused on securing new inward investment and helping local companies exploit trade links in valuable markets, such as India."
Mr Lalani was made finance director of BT Northern Ireland in 1998. Within a year of arriving in Belfast he was appointed chief executive, a position he held until he transferred to London in 2002.
New investment
Most recently he was chief executive of BT Global Services.
Mr Lalani said that his time in Northern Ireland was one of the highlights of his professional career.
"In volunteering to support Invest NI's trade and investment objectives, I hope I can help this region to secure new investment and growth opportunities" he said.
Mr Lalani will travel to India in September with Invest NI Chief Executive Alastair Hamilton, where they will work to further strengthen relationships with existing and potential investors.
His role will be complementary to that of Lord Rana who is an Honorary Consul focusing on trade and cultural develoopment.