Trading Standards issues counterfeit brake pads warning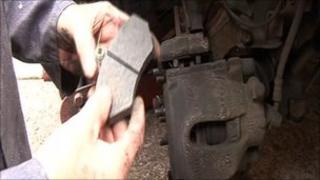 Motorists and mechanics are being warned that unsafe counterfeit brake pads are circulating in NI.
Trading Standards has made two seizures of dangerous brake pads in Belfast and County Armagh.
The counterfeit brake pads, branded as Volkswagen, SEAT, Skoda and Audi were seized following a tip-off from the Volkswagen group.
Examinations of the brake pads revealed they failed to meet required friction levels and are held together by glue.
When subjected to testing, the counterfeit parts showed that exceptional leg strength would be needed to apply the necessary pressure to stop an average family car.
At higher speeds, the heat and friction generated when braking could result in the counterfeit pads disintegrating.
Damien Doherty of Trading Standards Service said: "In the past, counterfeit car parts were mainly non-safety items such as window wipers, mud flaps and car interior accessories.
"Now, counterfeit items such as brake pads, brake shoes, suspension components and steering linkages are readily available on the market."
Businesses or individuals involved in selling counterfeit car parts are being warned they will have their goods seized and face prosecution with the maximum penalty being ten years' imprisonment.
Anyone who suspects they have purchased counterfeit brake pads, should report the matter to Consumerline on 028 9025 3900 or log onto www.consumerline.org