The Soldier and the Stone - a poignant journey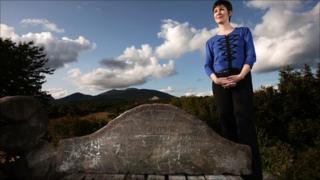 A chance discovery of an old stone in a County Down river led Julie McCullough on a poignant journey. Ahead of "The Soldier and the Stone" on BBC One on Tuesday, she explains how she unravelled the mystery.
This story began when my husband Robin found an old memorial stone lying in the Annalong River while he was out for a walk.
The name written on it was that of a young soldier - 20-year-old Robert Kelly Pollin, who was killed in action in Belgium during the First World War.
I was intrigued by the discovery and set about finding out more about the soldier and tracing his living relatives.
War grave records revealed that 2nd Lt. Robert Kelly Pollin's remains had never been recovered and that before his death the young soldier had been training to become a solicitor in his father's firm in Belfast.
Remarkably, two of his great nephews still work in that same office today.
But neither of them or the young officer's aunts knew very much about him.
The family was as interested as I was in finding out more.
Emotional
This year, his great nephew James Pollin, his niece Maureen Lynas, and her daughter Sandra Ellis made the journey to Belgium to find out more about what happened to their uncle.
It was an emotional journey.
They discovered what it would have been like for the young officer in the weeks before the opening day of the Battle of Passchendaele - the day he died.
They found out more about why his remains were never found.
The stone that had been found in the river was also taken to Belgium.
The family felt that it is where Robert's father would have wanted it to be.
It will now be part of a permanent exhibition at the Memorial Museum in Passchendaele.
A chance discovery in the Annalong River has meant that this young soldier from Belfast will never be forgotten.
BBC Newsline Special, "The Soldier and the Stone", will be broadcast at 2235 BST on BBC One.