Car bomb explodes near Londonderry police station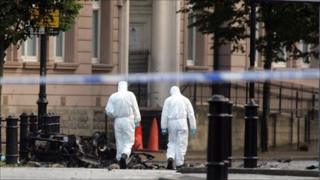 A car bomb has exploded outside a police station in Londonderry.
It is understood a taxi driver was forced to bring the device to Strand Road police station early on Tuesday by two men armed with a gun.
No-one was injured in the explosion, which happened near an old people's home and an apartment block.
The explosion at about 0320 BST damaged the police station's perimeter wall and a number of nearby businesses. Police said a telephoned warning was given.
SDLP Mayor of Derry Colum Eastwood blamed dissident republicans for the attack.
"Police didn't even have time to evacuate a nursing home or apartments right beside the police station.
"We are very lucky today not to be talking about fatalities. It's an attack not just on the police but the entire community."
'Panic'
Lotfi Jalloul, whose kebab shop was destroyed in the blast, had been cleaning up for the night when he saw the car arrive at the police station.
"I thought he was a taxi driver picking up a passenger but about 15 minutes later, we were evacuated by the police," he said.
"There was a lot of panic. I left the money in the till and didn't even get the chance to pull down the shutters - thank God we got out of there, I can't believe we're still alive."
He said he had been told his business had been destroyed by the explosion but had not yet been able to see what damage was caused because the area remains cordoned off.
Conor Kelly, who lives in an apartment block near the police station, said it had been a terrifying experience.
"I was still awake and reading when I heard an enormous noise like thunder and saw debris flying past my window," he said.
"There were no alarms or attempts to evacuate the building."
He said the front of a fast food outlet had been "ripped to shreds" and other buildings had windows blown out.
In May, a mortar bomb was fired at the same police station. It struck a wall but failed to explode.
The attack comes just weeks after Derry was picked to be UK City of Culture in 2013.
SDLP MP Mark Durkan said the bombing was "a cowardly, dangerous and vulgar act".
"Those responsible for this incident have achieved nothing and this campaign of violence will achieve nothing," he said.
Sinn Fein assembly member Martina Anderson said: "I would call on those who support the groups involved in this kind of activity to explain to the people of Derry the rationale behind this futile campaign.
"The only thing they succeeded in doing last night was damaging and disrupting local businesses and possibly putting people out of work."