What the papers say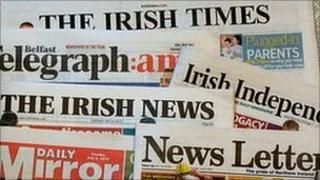 Journalist Fionola Meredith takes a look at what is making the headlines in Tuesday's newspapers.
"Maverick, hellraiser, genius, champion" - that's how the the Mirror describes Alex Higgins.
The Irish Times reports that Higgins' long-standing friend in snooker Jimmy White remembered him as an honest individual who infuriatingly "never listened to anyone".
The London Times says he was a gambler and a drinker with a violent temper, but he was given a hero's burial.
Meanwhile, the Irish News reports that a parades deal is "achievable", according to leading loyalist Tommy Cheevers, who was speaking after discussions with Sinn Fein on Monday.
Mr Cheevers said dissident republican violence remained a major obstacle, but he ruled out talks with dissidents.
"What would be the point of meeting dissident groups if they just want no parades or no Protestants about the place?" he said.
'Supersized'
Elsewhere, the Daily Telegraph says that food containing milk or meat from cloned animals will inevitably end up on sale in the UK unless regulations are tightened.
The Daily Mail claims that more than 100 cows descended from cloned cattle have already been born on British farms.
It says that such animals are sought after by some farmers because they are supersized and able to produce vast quantities of milk.
Should we be worried? Science author and molecular geneticist Professor John Joe McFadden, writing in the Guardian, says we shouldn't panic.
"We won't become genetically engineered because we drink milk from GM cows," he says.
As usual, the Matt cartoon in the The Daily Telegraph has a sideways look at the story. It shows a man sniffing a bottle of milk and asking his wife, "Does that smell cloned to you?"
The row continues over Prime Minister David Cameron's claim that Pakistan is exporting terrorism.
The Guardian believes that row is threatening to escalate, with President Zardari vowing to "educate" him when he arrives in Britain on Tuesday.
A senior Pakistani official tells the paper the timing of the prime minister's remarks "smacked of inexperience", and President Zardari will tell him that unless he supports Pakistan "things will get worse".
'Crisis'
"Engulfed" is hthe Independent's one-word headline, alongside a picture showing a mud-smeared man wading through the waters of Pakistan's worst floods for 80 years.
"A humanitarian crisis at home, a diplomatic crisis abroad" - that's how the paper sums up the situation.
Also in the Independent, Jonathan Miller, the revered theatre and opera director, tells the paper he hasn't been to the theatre for ten years. The 76-year-old said he preferred to visit Marks and Spencer.
The diet of Italian children is going downhill, according to the Times.
As the paper notes, with all that delicious Mediterranean cooking, you'd think Italian children would be the picture of health.
But apparently junk food and sweet treats are on the rise, and one-third of 11 year olds in Italy are now overweight - the same ratio as in Britain.
The health ministry is so alarmed that it has issued new guidelines on school lunches, with a ban on second helpings and mid-morning snacks.
Schools can offer pasta or rice daily, but pizza should be on the menu only once a week.