First Trust Bank shows £52m loss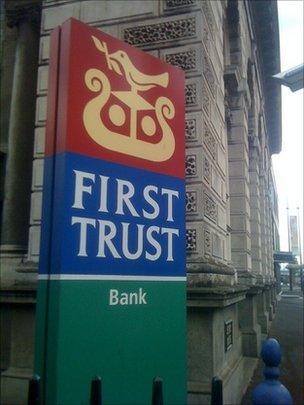 Allied Irish Banks (AIB) has reported a loss of 2bn euros for the first six months of 2010.
It is the worst ever half-yearly results for what is one of Ireland's biggest banks.
The bank's Northern Ireland business, First Trust, reported a loss of £52m, which compares to a loss of £41m in the same period last year.
First Trust had an operating profit of £24m, but that was wiped out by £76m set aside to cover bad loans.
The operating profit is well down on the same period last year when it stood at £50m.
First Trust said the decline in operating profit was due to a reduction in interest income, reflecting the intense competition for customer deposits in the Northern Ireland market.
The bank said there was an increased incidence in non-performing loans in Northern Ireland in the second half of 2009.
However, it added that the rate of increase in non performing loans has moderated since then.
Costs were down by 10% on last June, which the bank said reflected a combination of reduced staff numbers and a continued focus on discretionary expenditure.
First Trust has not yet transferred any loans to Nama, the Irish government's so-called bad bank which is buying property development loans from the Dublin-owned banks in an effort to strengthen their balance sheets.
However, the Great Britain arm of AIB has transferred £6m of loans to Nama.
AIB has put all its UK businesses up for sale but it has not reported any progress in finding a buyer.
Speaking on RTE radio, AIB Managing Director Colm Doherty said the bank was restricted in what it could say on possible sell-offs of assets at the moment.
However, he said he hoped to be able to disclose some news in September.
Related Internet Links
The BBC is not responsible for the content of external sites.