Fathers' frantic struggle to save sons in holiday flat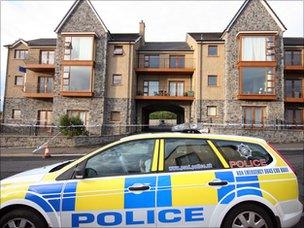 The father of one of the teenagers who died in a holiday flat after a suspected carbon monoxide leak has described his battle to save his son.
Aaron Davidson and Neil McFerran, both 18, were found by their fathers in Castlerock on Tuesday evening. A third teenager, Matthew Gaw, survived.
Aaron's father, George, said the fathers drove down to the flat and got in through an open window.
He told the Belfast Telegraph how they found their sons' bodies inside.
Mr Davidson said he and Neil's father decided to drive to Castlerock from their Newtownabbey homes after their sons were not answering their mobile phones.
They arrived at 2020 BST and tried to get into the flat to find the boys.
They found an open bathroom window and Neil McFerran's father got inside.
"There was an awful, horrible smell. I showed him how to get to the front door and open it. We went in and Aaron was lying on the settee. Matthew was sitting on the other settee. Neil was in the kitchen, part-way in," he said.
The boys all had their shirts off, as if they had been in the water earlier. He said the two men fought to save their sons, giving them mouth-to-mouth resuscitation, but it was too late.
Health and Safety inspectors will return to Castlerock later to resume their investigation into the boys' deaths.
Aaron Davidson was from Fernagh Road and Neil McFerran was from Kings Walk, both in Newtownabbey.
It is understood that Aaron was awaiting his A-level results and Neil his A/S-level results.
Health and safety officials have been checking gas appliances inside the flat to trace a leak, and the apartment block has been evacuated while tests continue.
John McPoland from the Ambulance Service said on Wednesday: "All the signs and symptoms were that it was carbon monoxide poisoning."
He said it was too soon to determine the source.
On Wednesday, the headmaster of the teenagers' school, Glengormley High, said they were role models for fellow pupils.
Principal Lex Hayes said: "Both boys had displayed exceptional talents in their careers here and were popular and valued by both students and staff.
"Aaron and Neil were both prefects and acted as role models for younger pupils. They will be sadly missed by all who knew them in school."
In the UK, about 50 people die each year in their homes from accidental carbon monoxide poisoning.
Related Internet Links
The BBC is not responsible for the content of external sites.