Finance minister angry over health trust's 'Zen class'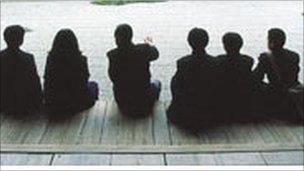 Finance Minister Sammy Wilson is losing his inner peace over a health trust's decision to offer "happy, calm and content" sessions with a Buddhist monk.
The Northern Trust's Health and Community Development Service has come under fire for offering mindfulness sessions with Ryushin Paul Haller.
Mr Haller is originally from Belfast and has taught at the San Francisco Zen Centre for more than 20 years.
Mr Wilson said it was "an appalling waste of money" but the trust argued Mr Haller was giving this particular session for free.
Mr Haller teaches mindfulness to help people deal with stress, anxiety and depression and is due to hold a session with Northern Trust staff in Antrim on 25 August.
"If further proof is needed that there are too many managers in the health service, this is it," Mr Wilson said.
Two weeks ago, the finance minister cast his eye on chauffer driven cars for Stormont ministers.
Nothing can be sacred in current financial straits, he said, and that includes ministerial cars.
When it comes to sessions with Buddhist monks, nothing is sacred either. The Northern Trust should get its priorities right, he said.
"They clearly have too much time on their hands and have got their priorities wrong if they think that what is needed are sessions such as these," he said.
"Speaking to doctors and nurses in the health service, they do not want more monks, but they want more doctors and nurses to help relieve the pressure that they are under."
"Many people may wish to attend such a session and it is their right to do so in their own time and out of their own pocket."
Cecil Worthington, director of social work at the Northern Health Trust said: "This gentleman is currently in Northern Ireland and this particular session is being given free of charge.
"It is very important that we have a workforce that is healthy, they in turn will be much more productive.
"I believe this particular initiative is supporting the minister, because a much healthier workforce will mean a much more effective and efficient workforce."
Related Internet Links
The BBC is not responsible for the content of external sites.