Mother tells of devastation over death of 'perfect son'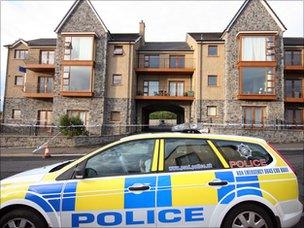 The mother of one of two teenagers who died in a holiday flat after a suspected carbon monoxide leak has paid tribute to "a perfect son".
Aaron Davidson and Neil McFerran, both 18, died in Castlerock on Tuesday. Their friend, Matthew Gaw, survived.
Health and Safety inspectors believe a gas appliance in the apartment was the potential source of the leak.
Aaron's mother, Katrina, described how the teenagers' parents rushed to the flat, fearing something was wrong.
"My husband prised open the window and we could hear a whizzing noise which we thought was gas but it turned out to be the fan in the bathroom," she said.
The parents of the boys arrived at 2020 BST and tried to get into the flat.
"I was standing at the back but once we were inside we saw Matthew just sit up and he just looked terrible," Mrs Davidson said.
"I could hear Katherine shout, Neil was lying on the floor, and Aaron was lying on the settee and I knew there and then, there was no hope - he was gone.
"We rang the emergency services who told us what to do, the boys' dads were doing CPR and chest compressions.
"The whole time we were in there we could just smell this awful smell, I can still smell it now - you could even taste it in Aarons mouth and I can still smell it now.
"The ambulance came and they tried everything but there was no chance for them so we had to stay there and watch them covered in blankets, then taken away, that was the hardest part.
"I just don't know what were are going to do without them, I just can't take it in.
"I feel so so sorry for Matthew, he must be devastated as well. He's still in hospital but he's doing well."
The three boys had been friends since they were toddlers and often spent time at each others houses.
"They were all great boys, absolutely no bother and very polite," she added.
A post-mortem is due to be carried out on Thursday.
"We just don't know what to do, the next step is to plan the funeral but I don't know where to start," Mrs Davidson said.
"It's been a complete nightmare, I just keep thinking he's going to come through the door with his hat on, I really can't take it in.
"Trying to decide about the service is hard, we know what kind of music he liked, what were his favourite songs but they're not going to play that at a funeral.
"Most importantly I want someone to say something about what a great boy he was, he was such a loving and happy child, no trouble at all, but there's nobody here in any fit state to do that.
"I just want people to know what kind of boy he was, he was a perfect son."
Aaron Davidson was from Fernagh Road and Neil McFerran was from Kings Walk, both in Newtownabbey.
Health and safety officials have been checking gas appliances inside the flat to trace a leak, and the apartment block has been evacuated while tests continue.
The Public Health Agency has urged people to be vigilant for the signs and symptoms of carbon monoxide poisoning and recommended taking action to minimise possible risk.
The gas is produced when fossil fuels such as gas, coal, oil, wood, petrol and paraffin burn without enough oxygen. It is a colourless, tasteless, odourless gas that is non-irritating.
In the UK, about 50 people die each year in their homes from accidental carbon monoxide poisoning.
Related Internet Links
The BBC is not responsible for the content of external sites.