Irish Republic's unemployment up again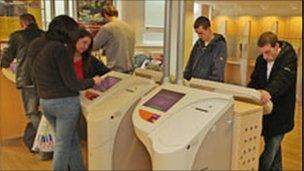 Unemployment in the Irish Republic has risen again, now standing at nearly 14% of the working population.
More than 450,000 people of working age in the Republic now have no job - an unemployment rate of 13.7%.
The unemployment figures suggest that white-collar professionals and clerical staff are increasingly affected.
The Republic's government has admitted the jobless rate is unsatisfactory but said its policies are stabilising the economic situation.
However, opposition parties have accused the Fianna Fail/Green coalition of not giving the jobless the priority they deserve.
The rise in unemployment is the second piece of economic bad news the government has had in as many days.
It follows the revelation on Wednesday that its income tax take is down 9% on the same period last year.