Greysteel killer Torrens Knight freed from jail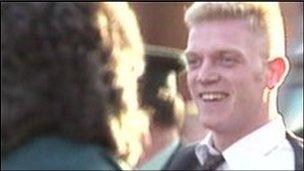 Greysteel killer Torrens Knight has been released from prison.
Knight was given 12 life sentences for the Greysteel massacre and the murder of four workmen in Castlerock, both carried out by the loyalist UFF.
He was sent back to prison last year for attacking two sisters in a Coleraine bar and had his early release licence suspended.
However, he has now been released again following a decision by the Sentence Review Commission.
The licence had been suspended by former sceretary of state Shaun Woodward.
Once a released prisoner's licence has been suspended by the secretary of state, the sentence review commissioners have to consider his case on receipt of an application from the prisoner.
If the commissioners think the released prisoner has not broken, and is not likely to break, the conditions of his licence, they will confirm his licence (to remain free): otherwise they will revoke it.
SDLP MLA John Dallat said Knight had been treated with "kid gloves".
"Under the early release scheme there has been a variety of procedures followed, in other words there's no standardisation," Mr Dallat said
"Some have had their licences revoked immediately even before court cases, others have had them suspended.
"But this one has been particularly bizarre and it raises a whole range of questions as to why Torrens Knight, the Greysteel killer, has got kid glove treatment."
Greysteel was one of the worst atrocities of the Northern Ireland Troubles.
Two gunmen from the Ulster Freedom Fighters opened fire on the Rising Sun bar in County Londonderry in October 1993.
They shot dead seven people, both men and women. Another man later died of his injuries.
Customers at first thought it was a Halloween prank as the gunmen shouted "trick or treat" before opening fire on the bar.
It followed an IRA bomb attack on the Shankill Road in west Belfast just days earlier, in which 10 people, including one of the bombers, were killed.