Bomb at Catholic police officer's home in Kilkeel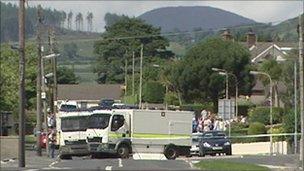 Police have condemned an attempted bomb attack at the home of a serving Catholic police officer in Kilkeel as a cowardly and callous act.
The viable device, found under a car, was made safe by Army technical officers.
The car belonged to the niece of independent republican councillor Martin Connolly.
He left Sinn Fein three years ago when the party decided to support the PSNI.
Mr Connolly declined to condemn the attack, saying he "did not want to get into the politics of condemnation".
"It hasn't done any good in the past, nor will it do any good in the future," he said.
"The fact of the matter is - let's deal with facts and be realistic about it - while there's British occupation in Ireland there will always be opposition to that, whether you agree with it or not."
The PSNI's Supt Barbara Gray said the attack was foiled by the vigilance of the targeted officer after the device fell from under her car.
Supt Gray asked anyone with information to come forward and added: "This was a focused and cowardly attack on the life of a police officer - an officer who works daily to protect her local community. This device was designed for one purpose - to kill and injure. We are fortunate that we are not dealing with a murder today."
Local MP Margaret Ritchie of the nationalist SDLP said the people of Kilkeel "stand with the officer and against those who would bring destruction and murder into this peaceful community".
"Everyone in Kilkeel will be disgusted by this attack and everyone will want to see those responsible brought to justice as soon as possible," she said.
Local Democratic Unionist Party assembly member Jim Wells said it was the latest in a worrying series of attacks.
"We've seen a week with dissident attacks in Londonderry, Bangor and now Kilkeel; the message is very clear - the dissident threat is throughout Northern Ireland," he said.
"Those who are saying it's one or two isolated pockets are totally wrong.
"They've been able to come in and out of areas at will and attack members of the security forces, and that's a very worrying trend."
Sinn Fein South Down MLA, Caitriona Ruane, said those responsible were "ignoring the people of Ireland and attempting to carry out an unjustified campaign of violence".
"The situation in the six counties has changed dramatically, particularly over the past ten years, and attempts to bring the British Army back on to the streets will not succeed," she added.
It comes days after a car bomb exploded outside Strand Road police station in Londonderry.
No-one was injured in the attack which happened at 0320 BST on Tuesday, but several businesses were badly damaged.
A day later an organisation calling itself Oglaigh na hEireann claimed it was behind the attack.
It is thought that dissidents were also behind a failed attack to murder a soldier in a booby-trap car bomb attack in Bangor on Wednesday.
He had been taking his car out of the driveway when he heard something fall off the underside of the vehicle and saw a bomb lying in the road.
Police said the Army major was "very lucky" to have escaped serious injury or death.
Northern Ireland Secretary Owen Paterson described the actions of dissident republicans as "irrational and evil".
On Friday, Sinn Fein said it would meet political representatives of the Real IRA.
Assembly member Gerry Kelly said the recent attacks by dissident republicans meant there was an urgent need for dialogue.
He said he would lead the talks with the 32-County Sovereignty Movement within weeks.
However, the 32-County Sovereignty Movement later played down the expectation of talks, saying it had received correspondence from Sinn Fein but had not arranged any meeting.
It accused the Sinn Fein President Gerry Adams of only being interested in publicity.