Warning over Coleraine company's gas appliances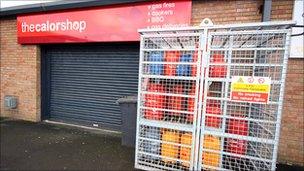 A warning has been issued to anyone who has had gas work carried out by a Coleraine company.
It follows a Health and Safety Executive investigation into the deaths of two Newtownabbey teenagers at an apartment in Castlerock last week.
The HSE is advising anyone who had work done by George Brown, trading as George Brown of 'The Calor Shop' in Coleraine, to switch off all gas appliances.
An emergency helpline has been set-up on 0800 0320 121.
'The Calor Shop' is an entirely separate legal entity to Calor Gas (NI) Limited.
On Tuesday, the HSENI said it had had a "strong response" to its emergency helpline number.
It said that more than "185 calls have been received so far from concerned members of the public".
It also said the helpline would operate from 0800 BST until midnight on Tuesday.
On Monday, the HSENI said a liquid petroleum gas appliance in the flat where the teenagers died was defective.
Aaron Davidson and Neil McFerran, both 18, died in a Tunnel Brae Court apartment last Tuesday following a suspected carbon monoxide leak.
Their friend, Matthew Gaw, survived.
HSENI said it was continuing to carry out checks in other premises in Castlerock and Coleraine.
The HSENI has asked that only members of the public with specific emergency safety concerns use the helpline.
In a statement on Monday, the safety body also issued some general advice and said anyone displaying any of the following symptoms - headache, dizziness, nausea, breathlessness, collapse, loss of consciousness, should seek medical help immediately.
They should also contact their local Gas Safe registered engineer and request a full gas safety check.
The HSENI also advised installing an audible carbon monoxide (CO) alarm as a further precautionary measure.
The funeral service for Aaron Davidson took place at The Church of the Ascension, Newtownabbey on Monday.
A funeral service for Neil McFerran was held at Newtownabbey Methodist Mission in Rathcoole on Saturday.