Opposition to Barry Gilligan apartments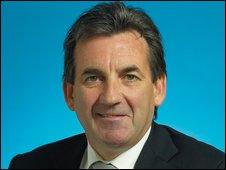 Developer Barry Gilligan faces opposition over building apartments in Belfast amid anger over how he acquired a site earmarked for social housing.
He was asked to offer advice to a community group on a housing project after being introduced to them by an Irish government official.
But within weeks a firm in which he is a director acquired the Nelson Street site, collapsing the plan.
Mr Gilligan, a director in Big Picture Developments, denies any wrong-doing.
Sinn Fein MLA Gerry Kelly said Mr Gilligan needed to explain his actions.
In June 2006, Clanmil Housing Association and a north Belfast community group, St Patrick's and St Joseph's Housing Committee, were on the verge of tying up a deal to deliver a project for 66 houses and apartments at Nelson Street, near Belfast city centre.
The project had been three years in the making. Planning permission had been secured and the Department of Social Development had given Clanmil £2.9m to buy the land from a private developer, Ruskin Developments.
With a deal almost final, a design issue arose over the architect's plans.
In the course of a meeting on another issue, members of the community group mentioned the problem to Aine de Baroid, an Irish civil servant with the Department of Foreign Affairs who was then based in Belfast.
She introduced them to Mr Gilligan, a well-known developer, and the group gave him the plans. He told them he would speak to his architect.
Community worker Frank Dempsey said: "We had the plans of Nelson Street, told him what the problem was, left it with him and bid him the time of day and that was it. The next thing we hear is 'sorry your site is sold' and lo and behold who has bought the site - Barry Gilligan."
During the filming of a BBC Spotlight programme two years ago, Mr Gilligan was asked about the deal. In remarks not transmitted at the time, he stated: "I've done absolutely nothing wrong here, absolutely nothing.
"But the interpretation or the impression that's being put out there is that I stole land from these people. I did not steal land from these people."
Documents held at Land Registers of Northern Ireland list the owners as another director of Big Picture and his brother. Mr Gilligan has told the DSD minister Margaret Ritchie it was Big Picture which bought Nelson Street and the current proposals for the site also feature on the company's website.
Ruskin Developments was paid £3.5m for Nelson Street, £600,000 more than had been agreed price with Clanmil.
Sinn Fein MLA and Junior Minister Gerry Kelly said: "All I can reflect is the anger and to be honest I felt anger as well. In the end all I can say is that there are questions which need to be answered and I think Barry Gilligan needs to answer those.
"Now I don't know who else was involved, I don't know who the partners are, don't know anything about that, but certainly those questions have remained unanswered now for three years."
The sale also caused anger and deep disappointment at Clanmil. Aside from wasted effort, they had to return not only the £2.9m but pay the DSD £70,000 in lost interest. There are 1,700 people on the waiting list for low-rent, social housing in north Belfast and Nelson Street was seen as an important project.
Big Picture Developments acquired the site from Ruskin Developments in July 2006.
Ruskin had teamed up with a neighbouring land owner, the McKeating family, and had planned to deliver both social housing and government offices at Nelson Street through a joint venture arrangement.
The idea was to split the use of vacant land at Nelson Street, with social housing on the Ruskin half and offices on the McKeating side.
The McKeatings held an important middle section of land and after back-and-forth legal discussions and financial negotiations, they signed over unconditional ownership to Ruskin in June 2006, giving them full control of the section of land which had planning permission and DSD funding for social housing.
In return, £650,000 was paid into the joint venture company which was to develop the offices.
The McKeatings had family ties to the land dating back to 1836 and had wanted to see the revival of an old neighbourhood known as Little Italy.
Dominic McKeating said low-rent, social housing was crucial to their involvement. "Clanmil, Clanmil, Clanmil, Clanmil. That's all that was ever spoken about. Nothing else."
After Ruskin had gained full control of the area earmarked for social housing the deal with Clanmil went cold. Meetings with Clanmil were cancelled and after a month, in July 2006, Ruskin told them it was selling to someone else.
The new owner turned out to be Big Picture Developments. Mr Gilligan is one of its directors and the meeting at which the community group had asked for his help had taken place in mid-June.
The BBC approached Mr Gilligan and a director of Ruskin, John McIlroy, on several occasions for an interview and also supplied them with detailed written questions but both declined to comment on the record on any circumstances surrounding the deal.
There is no suggestion either Big Picture or Ruskin did anything illegal.
During the BBC Spotlight programme on the housing market, Mr Gilligan was asked was he aware of how advanced the plans were for social housing at Nelson Street.
He said: "I was aware of those developments. But I was also aware that no contract was signed and it was a matter for the owner of the site to decide whether he was going to develop or whether he was going to sell.
"He chose to sell and he sold to us and I suspect if he hadn't sold to us he may have sold to someone else."
Clanmil did attempt to retrieve the project in October 2007. Following negotiations, they offered Big Picture £5.2m, which represented a £1.7m profit, but the bid was rejected at a time when the market was booming.
Mr Gilligan - currently Policing Board chairman - had thought the site would have been underdeveloped with just 66 dwellings and instead Big Picture wants to build around 240 'affordable' apartments in a project known as The Lighthouse.
Not long after the purchase, Mr Gilligan told the community group he was on holiday while the Nelson Street purchase was progressed by his co-director, but they feel betrayed.
"If he's got a conscience, any sort of conscience at all he would go into negotiations with the housing association," said Gerard Brophy, another member of the community group.
"It's not me he has to look at, it's 66 families off the housing waiting list."
Big Picture's present plans are also currently opposed by the Housing Executive.
A letter on the planning file states it objects to the site being developed for private use and that the land is zoned for social housing.
There have been community protests at the site and Mr Gilligan's associates have brought an injunction to prevent trespass. The McKeating-Ruskin joint venture office site also remains a vacant plot.
Whatever ends up being built at Nelson Street, the foundations have not been short of controversy.