Number claiming unemployment benefits in NI rises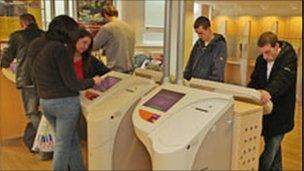 The number of people claiming unemployment benefits in Northern Ireland rose by 800 in July.
This was the highest monthly increase in the level of unemployment benefit claimants among the 12 UK regions
Over the year, the Northern Ireland claimant count increased by 11.8% (6,000), compared to a decrease of 7.6% in the whole of the UK.
However, the Labour Force Survey estimate of the unemployment rate for Northern Ireland showed a slight drop.
This is the other method uses by the Department of Enterprise, Trade and Investment to measure quarterly unemployment.
The Labour Force Survey takes a representative sample by asking households about their status.
Its estimated unemployment rate for the quarter April - June 2010 was 6.6% - down from 6.8% in the previous quarter.
Seasonally adjusted estimates for the period April - June 2010 showed that there were 777,000 people in employment in Northern Ireland.
This was up 0.6% from the previous quarter and increased by 4.1% over the year.
The number of people of working age who were economically inactive decreased by an estimated 3,000 over the quarter.
However, the Northern Ireland inactivity rate (28.8%) remained considerably higher than the UK average rate (23.4%) and was the highest of the 12 regions.
Ulster Bank economist Richard Ramsey said the rise in umemployment came as no surprise.
He said "it confirms the beginning of the secondary surge in unemployment that we have been flagging for some time".
"It is also noted that the gap in the NI and UK unemployment rates continues to widen - at 1.9 percentage points it represents the largest differential since September 1999.
"This trend is set to continue," he said.