Murders suspect Larry Murphy released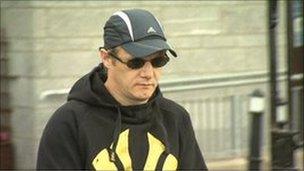 A convicted rapist, who was questioned about the disappearance of several women, has been released from prison in the Republic of Ireland.
Larry Murphy, 45, served ten-and-a-half years of a 15-year jail term for the rape and attempted murder of a woman in February 2000 in the Wicklow mountains.
Murphy, a carpenter from Baltinglass, kidnapped his victim, drove into the mountains and raped her.
The woman, then in her mid 20s, was rescued by two men who were hunting.
Murphy had put a shopping bag over her head and forced her into the boot of his car.
He fled the scene after the hunters' intervention and was arrested a short time later at his home.
At one point during the attack, Murphy spoke to the victim, telling her he was married and even naming his two daughters.
He is understood to be the chief suspect in the disappearance of three women in the area between 1993 and 1998. They have never been found.
There have been a number of other unsolved murders of young women in the area.