Gas company worked on over 100 businesses in the area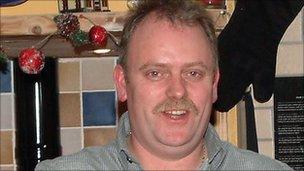 A gas shop owner being investigated over the deaths of two teenagers has said his company worked on over 100 business premises in the area.
Calor Shop owner, George Brown, is being investigated by police and the Health and Safety Executive (HSENI) over a suspected carbon monoxide leak.
On Wednesday, two businesses were temporarily closed for safety investigations.
Mr Brown's solicitor said his client had worked in many premises.
He added: "Mr Brown has not received any direct contact from the HSE in regards to the number of places which are under investigation.
"For arguments sake, Mr Brown estimated that he would have been effectively responsible for 108 businesses premises in the area out of approximately 115.
"He has been in there area for the last 20 years and is highly respected, his customers are people he lives amongst, in his community."
The HSENI has advised anyone who has a gas appliance fitted by Mr Brown's business, the Calor Shop in Coleraine, to switch it off.
The Calor Shop run by Mr Brown is an entirely separate legal entity to Calor Gas (NI) Limited.
The premises was searched by the authorities on Tuesday night.
Mr Green said that his client is anxious that the proper investigations are carried out to ensure the saftey of all of his customers.
"The caveat is, that he is anxious the matter is investigated as dilligently and expeditiuosly as possbilble and to that end there is some finality, at the earliest possible opportunity to allow him to continue with his livelihood."
Aaron and Neil, both 18, from Newtownabbey outside Belfast, had been spending time at the apartment awaiting their exam results when they were overcome by poisonous fumes last week.
A third teenager, Matthew Gaw, also 18, survived the leak.
The HSENI found that a liquefied petroleum gas appliance inside a flat at Tunnel Brae Court had not been working properly.
On Wednesday, the Ice House Restaurant in Portstewart and the Village Caff, Rasharkin, were closed so they could be examined by Health and Safety Executive staff.
The Ice House is due to re-open on Thursday.
On Tuesday night, the HSENI investigated reports of another suspected carbon monoxide leak in the area.
It is understood two women who worked at a building in the Portmore Road area of Portstewart contacted doctors after feeling unwell.
Following blood tests it was determined they did not have carbon monoxide.
The owners of the building said it was "100% safe".
Meanwhile, Finance Minister Sammy Wilson has said he will look at the possibility of making carbon monoxide alarms compulsory for all newly built homes.
Mr Wilson will meet the minister responsible for health and safety, Arlene Foster, on Thursday to discuss the matter.
Related Internet Links
The BBC is not responsible for the content of external sites.