PSNI planning application for Belfast security bollards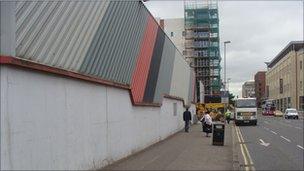 The PSNI has applied for planning permission to put security bollards on a footpath outside a police station in the centre of Belfast.
If the application is successful, the bollards will be placed on Victoria Street at the side of Musgrave station.
Victoria Street runs parallel to Victoria Square, a flagship shopping and leisure development.
In recent months, dissident republicans have carried out a number of attacks on police stations across NI.
SDLP councillor Bernie Kelly, who sits on the Development committee at Belfast City Hall, said that it was unfortunate that the bollards were necessary.
"We are trying to normalise the city centre as much as possible but we have to recognise that there is also a need to keep people safe. It is really a matter of striking a balance between the two.
"There has already been enough disruption in the centre of Belfast with the Streets Ahead project and having to do things like this is unfortunate."
She said the application was likely to come before Belfast City Council in the autumn.
A PSNI spokesperson said that it would not comment on "operational or security matters".
Last week, a bomb exploded outside the heavily fortified Strand Road police station in Londonderry in the early hours of the morning.
The Mayor of Derry said it was "extremely fortunate" that no-one had been injured.
This year bombs have also exploded outside the MI5 headquarters at Palace Baracks near Holywood in County Down, a police station at Newtownhamilton in County Armagh and a courthouse in Newry, County Down.
In the years after the Provisional IRA ceasefire in 1994, there was a significant reduction across Northern Ireland in the number of visible security measures to counter potential attacks.
However, the recent upsurge in dissident republican violence has caused the reintroduction of some measures.
Earlier this year, a road running alongside the main court complex in Belfast was closed to traffic without special permission.
And last month, it emerged that the Secretary of State had issued a special order for the closure of a road outside Ballykinler Army base in County Down.
Related Internet Links
The BBC is not responsible for the content of external sites.