Governments talking to dissidents: McGuinness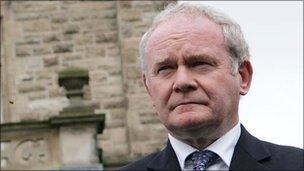 The British government has talked to dissident republicans in recent weeks, Martin McGuinness has told the BBC.
He also told the Talkback programme that the Irish government had been meeting with dissidents for years.
"They may well deny that, that doesn't concern me in the least. I know it's happening," said the deputy first minister.
On Sunday, NI Secretary of State Owen Paterson denied that the government wanted discussions with dissidents.
He was rejecting claims in the Sunday Times that talks were being sought through intermediaries, despite opposition from the Irish government.
On Thursday, a spokesman for the Department of Foreign Affairs in Dublin said "it has never been our practice to speak to these people".
The Northern Ireland Office said: "Co-operation at every level between the UK and the Republic of Ireland is unprecedented and we are quite clear you cannot have meaningful talks with people who are not committed to peaceful means of pursuing their goals."
A source close to dissident republicans told the BBC that there had been recent meetings with government intermediaries which focused on a dispute at Maghaberry Prison.
It is understood that in the course of those meetings, it had been mentioned that dissident bomb attacks were "not doing the prisoners' case any good."
Conservative MP Patrick Mercer said he would "not be surprised" if there were "covert conversations" between dissident groups and government bodies associated with the intelligence agencies.
However, he added that this was different from an official government policy of talking to dissident groups.
BBC chief political correspondent, Laura Kuenssberg, said she also understood that there had been contacts between dissident groups and the previous Labour government.
However, she added that the contacts were "very indirect" and a source had rejected the idea that there had been actual discussions between the former government and dissidents.
Last Tuesday, a car packed with 200lbs of explosives was detonated outside Strand Road police station.
A number of security personnel have also been targeted with booby-trap bombs under cars.
Mr McGuinness said dissidents would not be allowed to bring down the devolved institutions.
He added that he understood that the governments would say his claims of talks were untrue, but that he "knew for a fact" that discussions had taken place.
"That suggests to me that these groups are recognising that at some stage they are going to have to wake up and smell the roses in terms of their inability to destroy the peace process," he said.
DUP East Londonderry MP, Gregory Campbell, said if any discussions were taking place it was necessary to know who was involved and "on whose authority did they begin".
He said:"If there are discussions with dissident republican terrorists who are carrying out murder, who authorised those discussions?
"If Martin McGuinness has any information about who began those discussions, let's hear his information."
Des Dalton of Republican Sinn Fein, which is associated with the Continuity IRA, dismissed Mr McGuinness's claims as "black propaganda."
Earlier this week, Sinn Fein President Gerry Adams wrote to all of the dissident republican groups hoping to persuade them to seek Irish unity through peaceful political means.