Jobs 'under threat' at Translink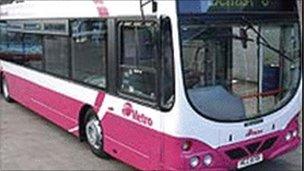 Up to 70 jobs are under threat at Translink as the company reorganises its bus engineering division in Belfast.
The firm said it was consulting with trade union officials about the plan which would see staff involved "offered a combination of redeployment opportunities and a voluntary redundancy scheme".
It said staff had been briefed about the proposals which would mean the division would "operate with greater efficiency".
"These changes are to ensure that we continue to operate sustainably in today's challenging environment and to continue to provide attractive travel solutions that are good value for both the passenger and the tax payer," the statement added.
SDLP councillor in west Belfast, Tim Attwood, said he had spoken to a number of Translink workers who were "stunned" by the announcement.
"It is important that Translink spell out in detail the rationale and business case for these proposed job losses," he added.