Rally held in Kilkeel to support policewoman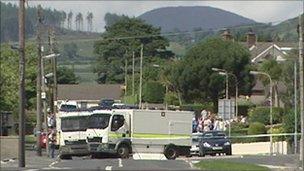 The friends and neighbours of a Kilkeel policewoman who was targeted in a booby-trap car bomb attempt have held a support rally in her home town.
The Army was called to the constable's house last Saturday after she noticed a device had fallen off her car.
SDLP assembly member Domic Bradley, who attended the rally, said it sent out a clear message.
"I commend those who organised this protest and all those who attended," Mr Bradley said.
"It is quite chilling to pass by the spot where that officer was strapping her little daughter into the car when she spotted the under-car device.
"Her neighbours have made it very clear where they stand - they do not want bombs brought into their neigbourhood, they fully support this woman in her choice of career and they want the violent gangs to cease and desist.