Lurgan police attacked with petrol bombs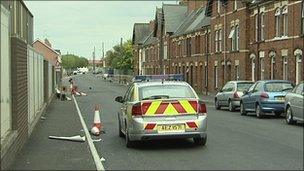 Police investigating bomb alerts in Lurgan in County Armagh came under attack by crowds throwing petrol bombs and other missiles on Saturday night.
No-one was hurt, but it came just hours after three children were injured in another explosion in the town.
In the earlier attack a no-warning bomb went off in a bin at North Street as police investigated reports of a device left at the Model Primary school.
Two children aged 12 and one aged two, suffered cuts and shock from debris.
The bomb went off at a junction where police would have been expected to put up a cordon around the school. The explosion injured the children after it blew a hole in a metal fence.
Three other alerts in the town were declared elaborate hoaxes.
Chief Inspector Sam Cordner it was "an absolute miracle" that the children were not more seriously injured "by this sickening attack on the most vulnerable members of our community".
He said the fact that an object was said to have been left in one area, then a bomb exploded in a different place "has similarities to the (1998) Omagh bombing that we would not like to repeat".
"This no-warning explosion occurred in North Street in Lurgan and was an obvious attempt to kill police or injure police officers providing a service to this community as they responded to a neighbouring area following a very vague warning that a device had been left at a local school," he said.
He also condemned the attacks on his officers who he said had suffered a sustained attack with petrol bombs and missiles while trying to protect this community.
Chief Inspector Cordner called on "all right-minded members of the community to help the PSNI in bringing these criminals to justice".
There have been a number of bomb attacks on security forces by dissident republican terrorists this month, including a 200lb device which exploded outside Strand Road police station in Londonderry.
Dissidents are also believed to have been responsible for leaving booby-trap bombs under the cars of a soldier, policewoman and civilian police station guard in Bangor, Kilkeel and Cookstown.