Service remembers Omagh bomb atrocity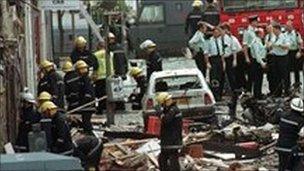 Representatives of the British and Irish governments have attended a service in Omagh to mark the 12th anniversary of the bomb atrocity.
Twnty-nine people, including a woman expecting twins, were murdered by the Real IRA in August 1998.
An interdenominational service was held, with music, poetry and prayer readings on Sunday.
There were readings in various languages including Spanish, to remember two victims from that country.
The participants expressed their sympathies with the many victims of terrorist violence at home and internationally.
Northern Ireland Office Minister Hugo Swire and Irish Minister of State for Overseas Development Peter Power joined the remembrance ceremony at the Omagh memorial garden.