Man in court on weapons charges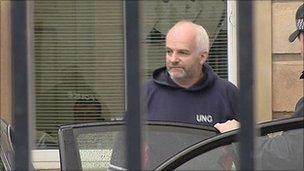 A 53-year-old man has appeared at Londonderry Magistrates' Court on weapons charges following the police investigation into the car bomb at Strand Road police station in the city.
Thomas Christopher Nash, from Iveagh Park in Prehen, was charged with a number of offences including possession of firearms and ammunition.
He was also charged with intent to endanger life or property.
Mr Nash, who denied the charges, was remanded to appear again next month.
On 3 August, a hijacked taxi was loaded with 200lbs of homemade explosives and driven to the police station where it was detonated.
No-one was injured in the explosion.
An organisation calling itself Oglaigh na hEireann claimed it was behind the attack, which badly damaged a number of businesses.
Mr Nash, who was arrested following searches by police officers investigating the Strand Road bombing, was charged with the possession of a rifle with eight rounds of ammunition, 33 rounds of Magnum ammunition and 100 rounds of Luger ammunition.
He was also charged with possessing the weapon and ammunition in suspicious circumstances.
Police found the gun and ammunition during searches of two properties on 9 August.
The defendant is also charged with possessing a CS spray canister at his home and with possessing an imitation AK47 rifle and an imitation Sig Sauer P228 handgun.
Police officers searched the defendant's marital home as well as a second address where he lived.
In the marital home police found the butt of an AK47 rifle hidden in the drawer of a bedroom cupboard.
In a garage at the second address the police found a rifle, ammunition, a sighting-scope, 3 balaclavas and a pair of gloves. In the garage roof-space they found ammunition and a fire-arm.
A solicitor for Thomas Nash said his client denies all the charges and stressed his client was not accused of any charges related to the bombing.
Opposing bail, a police officer said the defendant was suspected of being a member of a prescribed organisation.
He said given that the recent heightened dissident republican activity he believed that if released on bail the defendant would re-offend.
The officer also told the court that police were following lines of inquiry in relation to the defendant and the Strand Road bomb explosion.
Cross-examined by defence solicitor Seamus Quigley, the police officer confirmed that throughout more than 20 interviews the defendant had denied being involved in illegal activity.
The solicitor said that forensic tests carried out in relation to the seized items had proved negative in relation to the defendant, and he added that his client had not been charged with the Strand Road bomb explosion.
Refusing bail District Judge Barney McElholm said the discovery of a rifle together with a sighting-scope and balaclavas was extremely serious.