Sir Patrick Moore's Irish UFO film identified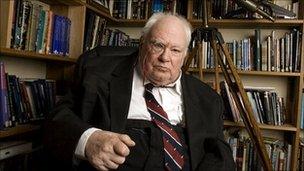 A science fiction film featuring astronomer Sir Patrick Moore has been unearthed, more than 50 years since it was filmed in the grounds of an Irish country estate.
Them and the Thing was the work of aristocrat Desmond Leslie, a UFOlogist and amateur film-maker who was friends with Sir Patrick.
It was filmed in the mid-1950s at Castle Leslie in County Monaghan, three years before Sir Patrick began presenting The Sky at Night, one of the world's longest-running TV shows.
As with many 1950s alien B-movies, the film has a flying saucer, although most amateur directors back then had to make do with using car hubcaps or frisbees for their special effects.
Mr Leslie's resources were more grand; he improvised by putting a Spanish Renaissance shield from his castle on the end of a fishing line and shining mirrors at it.
Although the film failed to put Castle Leslie on the showbiz map, it would later come to worldwide attention in 2002 when it was the setting for Sir Paul McCartney's marriage to Heather Mills.
Sir Patrick, who would later return to Ireland in the mid-1960s as Armagh Planetarium's first director, says he has no memory of his brief movie career.
"Quite honestly I forget. It was more than 50 years ago - if I saw the film I'd remember," he says.
The astronomer's interest in space may have been more scientific than Mr Leslie's but the pair remained friends and went on to co-write a spoof book in 1972, How Britain won the Space Race.
Desmond Leslie wrote a number of books about UFOs and was an early adopter of electronic music, recording science fiction-inspired songs at his studio in Castle Leslie.
Them and the Thing will be shown at the Irish Film Institute in Dublin on 21 August, as part of its Archive Home Movie Heritage festival.
Related Internet Links
The BBC is not responsible for the content of external sites.