Injured Ulster Grand Prix spectator still critical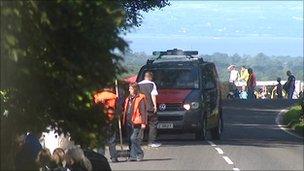 A spectator injured during the Ulster Grand Prix races at Dundrod in County Antrim on Saturday morning is in a critical condition in hospital.
A rider lost control of his motorcycle and crashed into two spectators shortly before 1200 BST on Saturday.
The rider and the other spectator are in stable conditions.
Course clerk Noel Johnston said that while everything is done to maximise safety, in any "sport where speed is involved, there is always danger".
"Over the past nine years we have spent in the region of £400,000 around Dundrod, making the course as safe as possible," he said.
"After every race we look at what can be done over the next year.
"It's our job to make sure the spectators are in the safest possible vantage point. This year we had a new enhanced spectator area with improved facilities.
"We plan to have more of these areas over the next couple of years, but it's all down to funding."