NI man hopes to be a break-out success on Dragons' Den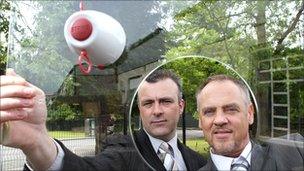 A Northern Ireland inventor will step inside the lair when he appears on the BBC show, Dragons' Den in an attempt to secure investment.
The county Antrim inventor is hoping that his fire safety product will stop the dragons from breathing fire during his pitch, to be aired on Monday night.
Stephen Maher has created a fire safety device which helps people to break the glass in double glazed windows and escape in an emergency.
The inventor said he hoped his product, known as 'BreakOut', will become a million-plus seller in the UK and Ireland in the next few years.
Mr Maher appears alongside Paul O'Hare, General Manager of Firefly, the company which developed the patented device at a cost of £200,000.
Mr Maher travelled to London with Mr O'Hare during the summer for filming with the infamous Dragons, Duncan Bannatyne, James Caan, Deborah Meaden, Peter Jones and Theo Paphitis.
Mr Maher said it was hard not to think about entrepreneurs who had frozen in front of the camera or who had been given a rough ride by the Dragons.
"I had three minutes in which to pitch BreakOut and was extremely nervous beforehand, who wouldn't be in the presence of Duncan Bannatyne and the rest of the Dragons?" he said.
"However, once I got started and began to highlight the benefits of installing our product as an addition to your current fire safety plan, I relaxed and enjoyed the experience.
"BreakOut is designed to break any type of window at the touch of a button in the event of a domestic fire - so the demonstration aspect of my pitch was visually very strong," Mr Maher continued.
"I obviously can't say too much about whether the Dragons chose to invest, but to have the opportunity of appearing before five of the most successful business minds in the UK, present our business plan and explain the background to the invention was a fantastic experience.
"There is plenty of entrepreneurial flair in Northern Ireland, something which our economy needs as much of as possible right now."
Whether or not the Dragons were willing to invest their own money in exchange for equity will be revealed during tonight's episode of the BBC series.
First launched in Japan, Dragons' Den is now an international brand with versions airing in countries across the globe.