Who is talking to the dissidents?
By Andy Martin
BBC Ireland reporter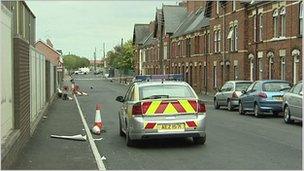 There have now been 35 dissident republican attacks this year.
A stark figure against a background of apparent contact between dissidents and the two governments.
If talks are actually taking place, as Martin McGuinness has claimed, one wonders what they are talking about.
There is no doubt that a deal was done with relation to conditions in Maghaberry prison.
Back channels involving a Londonderry go-between and a trades unionist, ensured a peaceful parade for the Apprentice Boys of Derry on Saturday.
A planned protest was called off.
But it shows the limits of such an agreement, as half way through the biggest single parade of the year, a bomb exploded 55 miles away.
There are of course a number of different organisations committed to disturbing the peace.
They are the Real IRA, Continuity IRA, possibly the INLA and two groups operating under the Oglaigh na hEireann name (OnH).
Recent assessments suggest that there is significant cross-over in terms of membership, and an increase in co-operation between them.
But it is OnH which is believed to have the greatest capability, having grown from the membership of the first Real IRA group behind the Omagh bomb.
However, this co-operation should not come as any great surprise, as Omagh demonstrated.
That 500lb bomb was made by Continuity IRA, but planted in the town by members of the Real IRA.
Martin McGuinness claimed that up-surges in dissident activity comes in 'flurries'.
It is now a year and half since two soldiers were shot dead at Masserene barracks in Antrim.
Days later, Constable Stephen Carroll was killed in Craigavon.
This year another policeman has been seriously wounded, and four others with security force connections have discovered bombs under their cars.
Martin McGuinness says he is absolutely sure that those talking to the governments are not just political representatives, but those involved in planning and carrying out these attacks.
But a stated dissident pre-condition to talks, is a British withdrawal.
With the prison issue resolved, it is hard to see what there is left in terms of bargaining tools.
Perhaps that is why the British government said it was not possible to conduct "meaningful" talks with those not committed to peaceful means.