Ardoyne dancers in eastern celebrations
By Niall Glynn
BBC News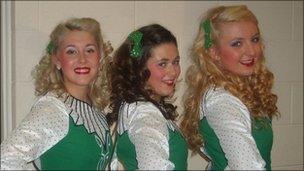 It may not be recognised by the UN, but a breakaway eastern European territory will have representatives from north Belfast at its 20th anniversary "independence" celebrations.
Four dancers from Ardoyne's Lawrenson Toal Academy of Irish Dancing will take part in the event in Transdniestria in September.
The territory declared independence from Moldova in 1990, but is still not recognised as an independent state by the UN.
The visit and performance by the Ardoyne dancers has been arranged through Ardoyne Youth Providers Forum and MedAid4Kids.
The latter is an Irish charity who distribute surplus medical equipment from Irish hospitals and raise funds for essential supplies for orphanages, schools and children's projects across Transdniestria.
Shane Whelehan from the Ardoyne Youth Providers Forum said a representative from the territory's government had visited Ardoyne last year and they discussed the work they do for young people in the two countries.
"We were able to make introductions to local politicians as well and she could put the case across to them as to what they were actually doing in their country.
"I think there's just been a natural linkage from there," he said.
"Coming from where we are we used to those sorts of problems and hurdles (that Transdniestra faces)".
Mr Whelehan said when he heard through MedAid4Kids that Transdniestra wanted Irish representation at its independence celebrations he did not hesitate to put them in contact with the Irish dancing school.
Ardoyne has been in the news for the wrong reasons recently after three nights of rioting starting on 12 July.
Mr Whelehan said there were "1,001 good stories happening in the district and we just want to start putting an emphasis on getting some of them out there".
He added: "It's really something that we wanted to do to in terms of getting better recognition for the good work that's happening in the area."
One of the dancers taking part is former Riverdance star and Academy principal, Arlene Toal.
"It is a privilege to be asked to perform in front of President Igor Smirnov and to bring our culture and dance to the people of that country," she said.
"Our academy has performed at events all over the world but it is nice to be invited to something as exciting as a state celebration and our girls are talking about nothing else.
"We are also looking forward to spending some time in the schools and orphanages over there and teaching the young people Irish dancing."
The dancers have been busy raising funds for the past six weeks to support the group on its visit as the academy does not receive any funding or grant-aid.