Traders set up crime watch scheme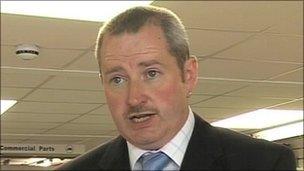 Traders on a County Antrim industrial estate are setting up their own business neighbourhood watch scheme.
Businesses at Pennybridge estate in Ballymena have lost hundreds of thousands of pounds to crime.
One trader, Noel Elliot, has lost more than £50,000 of stock due to raids by burglars.
Mr Elliot said the situation was untenable, and that the watch scheme was essential.
"You're trying to survive, you're trying to keep everything going on and we can't sustain the costs of ongoing attacks," he said.
He added that while insurance obviously helped, traders were still out of pocket.
"Our insurance is due for renewal now and within the last year's business we have had two major claims, so our insurance is going to rocket."