Three killed in Bantry Bay, Cork boat blaze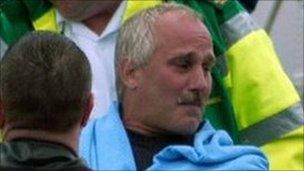 Three men have died and a fourth has been injured after a boat on a fishing trip went on fire off the coast of County Cork on Monday evening.
The 25-foot cruiser sank in waters south of Roancarrig Lighthouse off Adrigole Harbour in Bantry Bay.
One of the victims is Irish while two are from Germany.
The injured man, who is American has been discharged from hospital. The four men on the boat are all believed to have been in their 60s.
An RNLI lifeboat went to the cruiser's rescue at about 1745 BST on Monday.
The Irish coastguard helicopter, which was in the area on another rescue mission, spotted the men in the water.
The boat was on fire and sinking as they arrived.
It is understood all four men were living in the Glengarriff area.
The American man is understood to be originally from the Connecticut area.
Police in Cork and the Marine Casualty Investigation Board have begun separate investigations into the cause of what happened.