Tyrone priest steps aside during child welfare inquiry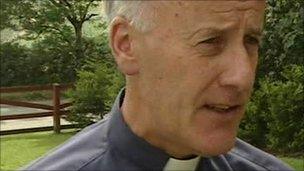 A Catholic priest has stepped down from his duties while an investigation into the safety and welfare of children is carried out.
Fr Eugene Boland was granted administrative leave by the church.
It is thought he informed parishioners in Killyclogher, County Tyrone, of his decision during Sunday Mass.
Bishop of Derry Dr Seamus Hegarty said: "The paramount concern of the diocese is, and will continue to be, the safety and welfare of children."
Dr Hegarty said Fr Boland and the diocese would continue to "co-operate fully with the civil authorities".
"While this process is ongoing, the priest is entitled to the benefit of a presumption of innocence," he added.
Omagh councillor Paddy McGowan said he knows Fr Boland well.
Speaking on Tuesday, he said parishioners have been "completely overwhelmed with surprise".
"It is difficult to understand and believe because we had such a fine priest. He's helpful, he's pleasant.
"It's like everything else, these are all accusations.
"We know nothing about them or what they are but you are always innocent until proved guilty."
Fr Boland is understood to have previously served in parishes in Galliagh, Creggan and Waterside.
Related Internet Links
The BBC is not responsible for the content of external sites.