Barry Gilligan interviewed by police over land deal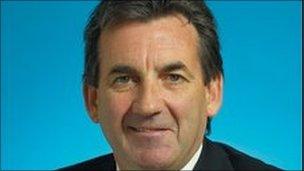 The chairman of the NI Policing Board, Barry Gilligan, has gone voluntarily to a police station to be interviewed about his role in a Belfast land deal.
In March, the Housing Executive asked police to investigate its involvement with the Nelson Street site.
The site is owned by Big Picture Developments, which lists Mr Gilligan as one of its directors.
Last week, police searched Mr Gilligan's home and the headquarters of the Policing Board.
Mr Gilligan, who is on leave from his post because of health problems, has since said he will seek the board's support to remain in the role next month.
The controversy began when it emerged that he had been asked to offer advice to a community group which wanted to build social housing at the site in north Belfast.
But, within weeks, Big Picture Developments acquired the site, collapsing the community group's plans.
Mr Gilligan denies any wrongdoing.
For years, the Housing Executive opposed the commercial scheme, insisting the land was still designated for social housing.
However an investigation by the BBC Newsline programme showed that the Housing Executive subsequently appeared to change its mind, with one official writing to planners telling them that it was "withdrawing the request for social housing at the scheme".
It is believed this letter is the focus of the police investigation.
After it was discovered, senior staff at the Housing Executive ensured the letter was withdrawn and its original position of opposition to the development was reinstated.